TRAVEL & SAFETY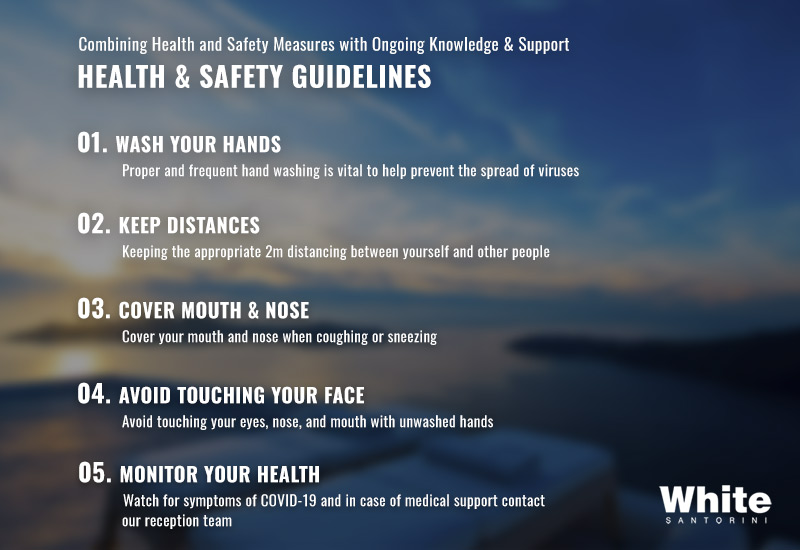 Having as great allies our skillful staff with their exquisite services and our valuable guests that keep supporting us with their preference and trust,
we chose to operate this year
against the troublesome circumstances. 
We want to reassure you once again that we take standards for hygiene and cleanliness very seriously and that we will continue implementing additional hygiene procedures to ensure the health and safety of our guests as well as our own team.                               
We are and will continue doing everything we can to provide a safe and enjoyable stay for our guests whilst also offering the exemplary service for which we are known.
For the next season, with the experience acquired after this demanding past season, we are all set and we look forward to continuing to welcome all of our valued guests and provide them the carefree and joyful vacations
they have always been dreaming of. Book your summer 2021 holidays directly and take advantage of our exclusive offers and the lowest prices!
icon


White Santorini Hotel's Commitment to You, Our Guests, As We Navigate Through Coronavirus (COVID-19)

 

Let your mind free at White Santorini.



The safety and security of our guests and team members have always been, and remain our highest priority. We are doing our utmost to ensure safe travel for you and provide you with maximum booking flexibility, as the situation around novel coronavirus (COVID-19) continues to evolve.

Meanwhile, we'll be doing our best to stay optimistic and prepare for your safe upcoming holidays. Having our people, guests and team members at the center of our attention, we closely follow all national and local authorities' guidelines, safeguarding the well-being, health and safety of everyone on our premises.

We know how important holidays with your family and loved ones are for you. The Greek sun, the Cycladic tradition and the bright smiles of White Santorini's staff will be waiting for you to share beautiful moments and create happy memories, as soon as global and local conditions allow.


Book & Travel with Flexible Terms


As you consider your summer travel plans, we want to make the experience as stress-free as possible for you. Committed to offering you peace of mind in these challenging times we are implementing the following adjustments:

New individual reservations may be changed or canceled without charge, up to 14days before your scheduled arrival*.

*Please note that changes of the reservations may be subject to availability or any rate differences.
In case you wish to make any changes or modifications to your existing reservation, please contact our reservations department at contact@whitesantorini.gr.

If you have booked via online travel agents or other third party operators, please contact them directly for booking changes or any further information you may need.


Combining Health and Safety measures with ongoing knowledge & support
 
Protocols for Hand Hygiene: Proper and frequent hand washing is vital to help prevent the spread of viruses — it is highly important for everyone's protection.
Ongoing Training: In addition to training on housekeeping and hygiene protocols, our team members are also completing enhanced COVID-19 awareness training.
Keeping the appropriate distancing at the front desk area.
Having an open space option for check-in and check-out.
Cleaning Products & Protocols: White Santorini uses Eco Lab cleaning products & protocols that are effective against viruses, including COVID-19.
Guest Rooms: Our Hotel uses cleaning & disinfecting protocols to clean rooms after each guest departs, and before the next guest arrives, with particular attention paid to high-touch items.
Public Spaces: Our hotel has significantly increased the frequency of cleaning & disinfecting in its public spaces, with a focus on the counter at the front desk, elevators and elevator buttons, door handles, public bathrooms and room keys.
Staff spaces: In the spaces where we have staff working "behind the scenes", our hotel has increased the frequency of cleaning with a special focus on high-touch areas, like personnel entrances, laundry rooms & staff offices.
Operational Terms & Conditions
Customized breakfast served privately in your suite at your requested time.
Private entrance to all suites keeping the proper distances.
Our property is taking steps to protect the safety of guests and staff. Certain services and amenities may be reduced as a result.
Spa facilities are unavailable due to the coronavirus (COVID-19).
Reception and service hours have been reduced.
Guests are kindly requested to inform the hotel in advance of their arrival time to expedite their check-in.
Check-in time has been changed to 3 pm & check-out time at 11 am, to ensure that each room is thoroughly disinfected between stays and that all interior spaces are adequately ventilated.
Rooms in hotel and pool area will be for guest-use only. No visitors will be permitted.
In response to the coronavirus (COVID-19), guests may be requested of additional documentation to validate identity, travel itinerary, and other relevant info meeting the guidelines of GDPR.
In case of medical support, guests may contact our reception team.

For your convenience, the European Emergency Number is 112. For any Covid-19 related inquiries dial 1135.

We will continue to update our web page with the latest information, we will keep supporting our communities and workforce, and be committed to our guests' travel safety.


We are looking forward to welcoming you at White Santorini hotel and offer you a memorable accommodation experience!